Performance & Handling
Handcrafted AMG® 6.3L V-8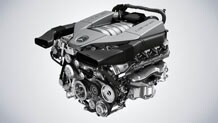 Bearing the signature of the single technician who lovingly assembled it by hand, the V-8 heart of the C63 AMG® generates prodigious, and best-in-class, output: 451 hp @ 6,500 rpm, and 443 lb-ft of torque @ 5,000 rpm. Developed entirely by AMG® and one of the most powerful naturally aspirated V-8s in production, it features such race-proven technology as highly rigid one-piece aluminum bedplate, plasma-sprayed cylinder bores, and self-adjusting bucket-type followers for its 32 variably-timed valves. Accompanied by an exhaust note of symphonic proportions, 60 mph arrives in just 4.4 seconds. And yet, even with all this power waiting to be unleashed, it's also a refined performer around town, making the C63 AMG® a supercar you can enjoy every day.
Auxiliary engine oil cooler
An additional heat exchanger is located near the right front wheel arch of the C63 AMG®, to help keep the engine oil temperature at optimum levels even under demanding conditions. Air is fed to the oil cooler through one of the front apron's large air intakes, and exits via the vertical outlets near the wheel arch.
7-speed AMG® SPEEDSHIFT® MCT transmission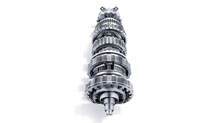 The 7-speed AMG® SPEEDSHIFT® MCT transmission features innovative multi-clutch technology for instant, efficient response to any driving situation. A wet startup clutch eliminates the power losses of a traditional torque converter, improving both performance and fuel consumption. Four driving modes can be selected via a console-mounted rotary control. "Controlled Efficiency" maximizes shift comfort and fuel efficiency. "Sport" mode raises the shift points and reduces shift times by up to 30%. And both a "Sport+" mode and paddle-shifted "Manual" mode deliver lightning-quick 100-millisecond shifts, a feat made possible by partial suppression of the fuel and ignition during gear changes under full load. Downshifts in all modes are accompanied by a rev-matching "throttle blip" for more immediate response and torque delivery.
Aluminum shift paddles
A pair of aluminum paddles strategically positioned behind the upper steering-wheel spokes allows you to manually upshift and downshift the 7-speed automatic transmission with just a flick of your fingers.
AMG® sport suspension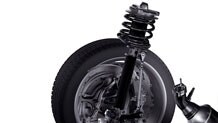 The AMG® sport suspension has undergone thorough modification to offer greater driving enjoyment and ride comfort in all driving situations, from the racetrack to city streets. Elements include a redesigned front axle, a reinforced rear axle and widening of the front track. Stiffer elastokinematics, revised axle geometry with more negative camber, and larger rear stabilizer bar sharpen its agility and result in greater lateral acceleration. Additionally, revised spring and damper rates elevate the responsiveness of the suspension while better suppressing road noise and tire vibration.
Exclusive front axle
The outstanding handling dynamics of the AMG® sport suspension are carried out by an exclusively reengineered 3-link front axle design. The firm calibration of the springs and gas-pressurized shock absorbers ensures optimal road contact and low body movements when negotiating hard corners at enthusiastic speeds. Compared to the standard C-Class, the C63 AMG® front axle features a track that's 1.4 inches wider. It not only helps ensure lower dynamic wheel loads when cornering, it also lends the car a more aggressive stance, most evident in the way the 18-inch wheels fill out its exclusively flared wheel arches. A number of additional enhancements substantially increase stability and precision in all driving situations. Higher rigidity of the relocated front wheels and hubs increases steering precision. And the wheel location, rigidity and revised geometry lead to surer, more stable and more immediate response under hard braking, especially when braking and cornering simultaneously.
AMG® sport exhaust
The AMG® sport exhaust system not only enhances performance but also generates the characteristic 8-cylinder sound. From the four polished-chrome tailpipes, an enticingly throaty rumble at idle crescendos to a fierce roar under acceleration and at higher revs, while the relaxed yet distinctive cruising note continually reminds you of the potential awaiting beneath the hood, and under your right foot. A tri-metallic coating in the catalytic converters helps them reach the peak of cleansing effectiveness more rapidly after a cold start, for more efficient emission control with superior long-term durability.
AMG® high-performance braking system
AMG® high-performance brakes deliver outstanding deceleration with extremely large perforated and internally ventilated discs at all four wheels. Front brakes measuring 14.2 inches (diameter) are grasped by 6-piston fixed calipers. Rear brakes are 13.0 inches and feature 4-piston fixed calipers.
Design
AMG® body styling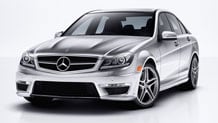 Exclusive AMG®-design bodywork expresses the pure performance of the C63 AMG®. Large, functional mesh air intakes in the deep front apron are set off by a black central splitter and linear LED Daytime Running Lamps. Menacingly dark-tinted headlamps flank the wide grille and wrap into the flared fenders and power-dome hood. Dramatically sculpted side sills set off the wide wheels and wrap around into a chiseled rear apron, where a black diffuser panel frames the four massive oval AMG® exhaust tips.
AMG® cabin styling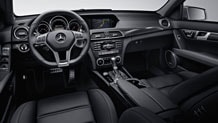 A study in comfort and ergonomic precision, the AMG® sport front seats combine luxury and performance in equal measure. Their design features lateral stitching and AMG® lettering, stylish complements to their shapely support and the racing-derived integrated head restraints and deep side bolsters. A 3-spoke flat-bottom steering wheel affords a clear view of a trio of exclusive AMG®-design gauges recessed deeply within silver surrounds. And the rubber-studded aluminum sport pedals simply beg to be put to good use.
18-inch AMG® twin 5-spoke wheels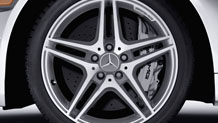 Genuine AMG® alloy wheels feature an aggressive 5 twin-spoke design with Titanium Grey painted pockets. High-performance tires are sized 235/40R18 up front and 255/35R18 at the rear. Their staggered-width configuration offers enhanced grip during acceleration while maintaining crisp steering feedback in corners.
3-spoke AMG® multifunction sport steering wheel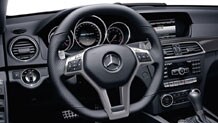 With its pronounced contouring, thick padding and Premium leather-wrapped rim, the AMG® sport steering wheel puts the delights of precise handling literally in the driver's hands. Dual aluminum AMG® shift paddles provide instant control of gear changes while keeping the driver's hands on the wheel. Convenient multifunction controls do likewise while operating the most frequently needed vehicle features. Raised thumbrests are placed at the ideal 10 and 2 o'clock positions. And both the top and bottom sections are flattened, not only to facilitate ingress and egress, but also to offer tactile feedback of the steering wheel's rotational orientation.
4.5-inch color instrument cluster display with AMG® menu
Controls on the AMG® steering wheel offer three instrumentation modes. Warmup displays the engine oil and coolant temperature. Setup reveals the selected modes for the transmission and ESP® settings. Race mode brings up the exclusive RACETIMER®, allowing the driver to record lap times. This sharp color display also lets you scroll through various other screens, including a trip computer, numerous programmable vehicle settings, and information for the audio and available navigation systems.
---
If your looking for a Mercedes-Benz C-Class or C63 AMG® in Florida, Mercedes-Benz of Melbourne is your source for New Mercedes-Benz SUVs and Mercedes-Benz cars. Mercedes-Benz of Melbourne serves Mercedes-Benz of Melbourne Florida. Our Melbourne, FL Mercedes-Benz dealership offers an impressive inventory of new and used Mercedes-Benz vehicles, including the New C-Class models - in stock and available at Mercedes-Benz of Melbourne. We have New Mercedes-Benz vehicles and Pre-Owned inventory constantly arriving, so you will always find your desired model at Mercedes-Benz of Melbourne. Mercedes-Benz of Melbourne provides Mercedes-Benz repairs and service as well as genuine Mercedes-Benz auto parts for customers in the Melbourne, FL region.