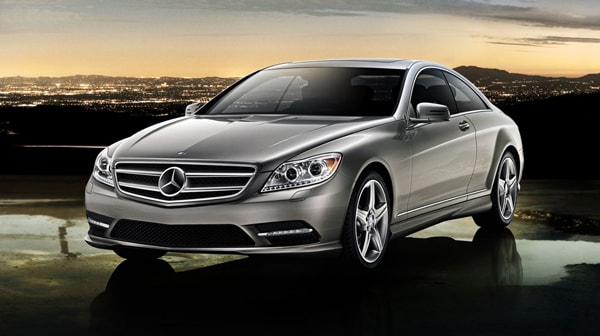 Performance & Handling
4.6L biturbo V-8 engine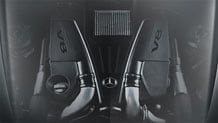 The 429-hp 4.6-liter V-8 in the CL550 combines numerous advances and twin turbos to deliver 12% more power. Its 516 lb-ft torque peak offers 45% more thrust at just 2,000 rpm. Rapid-multispark ignition can fire up to four times per millisecond, while high-pressure Direct Injection can microscopically fine-tune fuel spray in just 0.1 milliseconds, reducing emissions, fuel consumption and noise. A lightweight diecast-alloy block, quicker and more widely variable valve timing, reduced friction, and clever "on-demand'' ancillary components like the alternator further boost efficiency.
7-speed automatic transmission
The industry's first 7-speed automatic has been made even smoother, more responsive and more efficient. A wide range of closely spaced gear ratios delivers the ideal response in virtually every driving situation, for relaxed cruising, quick acceleration, and thanks to two overdrive ratios, better highway fuel efficiency. Adaptive logic adjusts the shift points to match your driving style, while paddle shifters on the steering wheel let you enjoy manual-style control anytime you wish.
Paddle shifters
A pair of paddles strategically positioned behind the upper steering-wheel spokes allows you to manually upshift and downshift the 5-speed automatic transmission with just a flick of your fingers.
4MATIC« all-wheel drive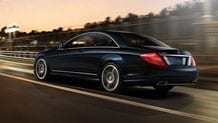 In any season or road condition, 4MATIC« all-wheel drive adds to your confidence and control. Always engaged and optimizing torque to every wheel, 4MATIC« integrates with our standard Electronic Stability Program (ESP«) for maximum effectiveness in corners and slippery conditions. It also incorporates our 4-wheel Electronic Traction System (4ETS«), which monitors for the first sign of wheel slip and responds to ensure that torque is sent to the wheels with the best grip, even if that's only one wheel.
Design
CL550 4MATIC« Coupe
Pillarless coupe profile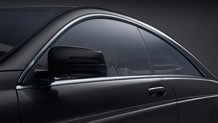 With no visible B-pillar to interrupt the span of the four retractable side windows, the CL-Class is no ordinary two-door. Unlike a mere shortened sedan, this seamlessly panoramic design is a feat of structural integrity made possible not just by the engineering prowess of Mercedes-Benz, but by the passion behind it that believes a true coupe is equal parts performance and romance.
Bi-Xenon headlamps with Active Curve Illumination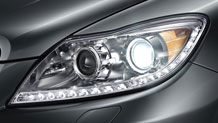 Bi-Xenon headlamps help deliver greater visibility than halogen headlamps because their brighter, whiter light is much closer to natural daylight. Active Curve Illumination helps you see better into corners at night, swiveling the headlamps as you steer to increase usable illumination by up to 90% over conventional fixed headlamps.
Safety
11-way air bag protection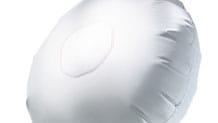 An advanced system of 9 air bags offers 11-way occupant protection. Dual two-stage front air bags, front and rear side-impact air bags, and window curtain air bags for both seating rows are standard.
PARKTRONIC with Advanced Parking Guidance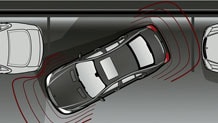 Advanced Parking Guidance helps you size up parallel-parking spaces as you drive by, using sensors in the bumper to determine if available spots can accommodate your vehicle. It then displays steering instructions to help you find your way into it.
During any low-speed maneuver, PARKTRONIC's ultrasonic sensors in the front and rear bumpers can detect nearby objects within the system's field of view. Audible signals and illuminated displays in the cabin help you navigate tight spaces with confidence.
ATTENTION ASSIST«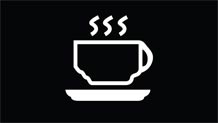 The first system of its kind, ATTENTION ASSIST« continuously monitors different parameters of driving behavior, and can automatically alert the driver with both visual and audible warnings if it detects signs of drowsiness on long trips.
PRE-SAFE«
A Mercedes-Benz first, PRE-SAFE« can detect instability during certain vehicle maneuvers that suggest a collision or rollover is imminent. It can then tighten the front seat belts, adjust the front passenger seat, and close the windows and sunroof -- all in an effort to better prepare the occupants in the moments before a collision. If no accident occurs, the seat-belt tensioners reverse, and you simply readjust your seat, open the sunroof and continue on your way.
---
Find your new Mercedes-Benz CL550 at Mercedes-Benz of Melbourne FL
Mercedes-Benz of Melbourne serves Florida. Our Mercedes-Benz new car and used car dealership takes customer service to the next level. Mercedes-Benz of Melbourne offers a huge inventory of new Mercedes-Benz vehicles, including theáNew CL-Class models in stock and immediately available. We have New Mercedes-Benz vehicles andáPre-Owned inventory arriving daily, so you can rest assured we'll have what you're looking for at Mercedes-Benz of Melbourne. Our Melbourne, FL Mercedes-Benz dealership also provides auto repair, Mercedes-Benz service, authentic Mercedes-Benz auto parts and generous monthly specials on new cars, parts and service. Visit Mercedes-Benz of Melbourne today to test drive one of our luxury CL-Class models, a used car or any Mercedes-Benz vehicle on our lot!