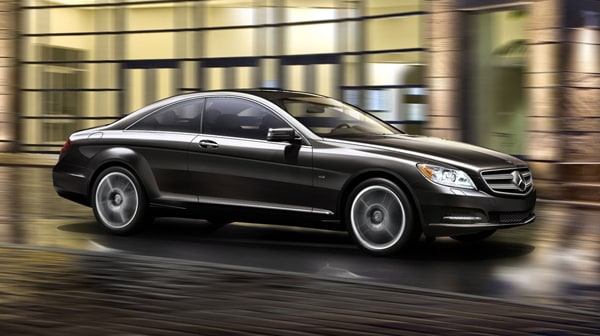 Performance & Handling
5.5L biturbo V-12 engine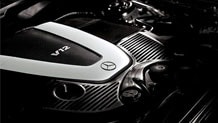 The numbers only tell part of the story: 12 cylinders, 510 hp and 612 lb-ft of peak torque from 1,800-3,500 rpm. The rest you have to feel for yourself. Staggering acceleration and low-end torque stems from two advanced, compact turbochargers, which nearly eliminate "turbo lag". Two liquid-to-air intercoolers further intensify combustion for seemingly endless thrust at any rpm. And with high-strength components like a diecast block, it's both seamlessly smooth and stunningly strong.
5-speed automatic transmission
The proven and acclaimed 5-speed automatic is designed to handle the massive torque output by the biturbo V-12. The transmission is also driver-adaptive, monitoring your driving style and adjusting its shift points to match. The Touch Shift feature offers you the enjoyment and involvement of manual-style shifting anytime you want it
Paddle shifters
A pair of paddles strategically positioned behind the upper steering-wheel spokes allows you to manually upshift and downshift the 5-speed automatic transmission with just a flick of your fingers.
Design
CL600 Coupe
Heated wood/leather steering wheel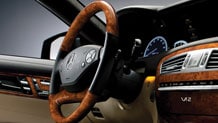 Put a classic touch of luxury in your hands with a steering wheel accented with hand-polished wood to match the interior of the vehicle and trimmed in supple Premium leather. Heating elements beneath the leather trim rapidly take the chill out of your hands on a cold morning. After a few minutes, the heating level is automatically reduced to maintain lasting comfort.
Pillarless coupe profile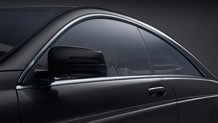 With no visible B-pillar to interrupt the span of the four retractable side windows, the CL-Class is no ordinary two-door. Unlike a mere shortened sedan, this seamlessly panoramic design is a feat of structural integrity made possible not just by the engineering prowess of Mercedes-Benz, but by the passion behind it that believes a true coupe is equal parts performance and romance.
Bi-Xenon headlamps with Active Curve Illumination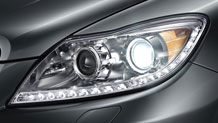 Bi-Xenon headlamps help deliver greater visibility than halogen headlamps because their brighter, whiter light is much closer to natural daylight. Active Curve Illumination helps you see better into corners at night, swiveling the headlamps as you steer to increase usable illumination by up to 90% over conventional fixed headlamps.
19-inch multispoke wheels
With a machine-like precision befitting the V-12 CL600, these elegant wheels feature a series of intricate, wishbone-shaped spokes and are outfitted with high-performance tires.
Safety
11-way air bag protection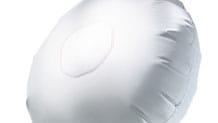 An advanced system of 9 air bags offers 11-way occupant protection. Dual two-stage front air bags, front and rear side-impact air bags, and window curtain air bags for both seating rows are standard.
PARKTRONIC with Advanced Parking Guidance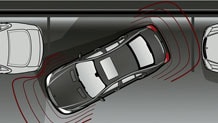 Advanced Parking Guidance helps you size up parallel-parking spaces as you drive by, using sensors in the bumper to determine if available spots can accommodate your vehicle. It then displays steering instructions to help you find your way into it.
During any low-speed maneuver, PARKTRONIC's ultrasonic sensors in the front and rear bumpers can detect nearby objects within the system's field of view. Audible signals and illuminated displays in the cabin help you navigate tight spaces with confidence.
ATTENTION ASSIST®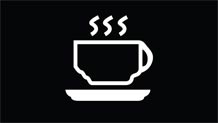 The first system of its kind, ATTENTION ASSIST® continuously monitors different parameters of driving behavior, and can automatically alert the driver with both visual and audible warnings if it detects signs of drowsiness on long trips.
PRE-SAFE®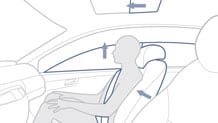 A Mercedes-Benz first, PRE-SAFE® can detect instability during certain vehicle maneuvers that suggest a collision or rollover is imminent. It can then tighten the front seat belts, adjust the front passenger seat, and close the windows and sunroof -- all in an effort to better prepare the occupants in the moments before a collision. If no accident occurs, the seat-belt tensioners reverse, and you simply readjust your seat, open the sunroof and continue on your way.