When it comes to shuttling people, the

Mercedes-Benz

Sprinter Passenger Van is all about comfort and safety. Featuring room for up to 12 adults, Best-In-Class1 roof and side step-in heights and a wide entry, it has the most inviting interior ever.  Safety comes standard with features like Adaptive ESP®3, three-point integral seat belts and driver/passenger air bags6. So, whenever you drive, peace of mind is always on board.
Space
Overview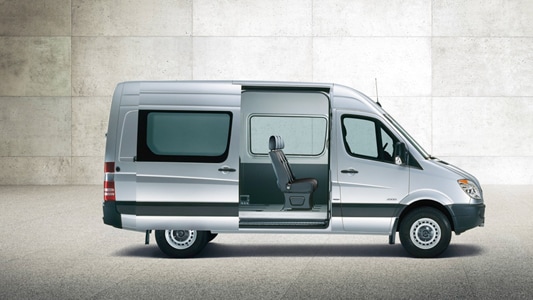 The Sprinter Passenger Van by
Mercedes-Benz
was built with the power to move people. How? With space and comfort - two of its Best-in-Class
1
features.
Cab Area
Can a commercial vehicle be so comfortable you forget it's a commercial vehicle? With everyday storage space for lunches and laptops, and fully adjustable and ergonomically designed seats and controls, the answer is a resounding yes.
Passenger Area
You're hauling passengers, not sardines. Class leading space for up to 12 adults, Best-in-Class
1
roof height, side step-in height, and a very large entry allow passengers to enter easily and settle in for the long haul.
- Best-in-Class
1
Interior Standing Height (up to 6'4'')
- Best-in-Class
1
Side Door Opening Area (6' X 4'3'')
Cargo / External
The Sprinter Passenger Van is so well designed it creates space just by working efficiently. Its amazing turning radius handles curves with ease for fewer wide turns. It gets into tight parking spots easily with the help of park assist technology. It even has a towing capacity of 5,000 lb., giving you the freedom to carry even more
4
.
---
Efficiency
Overview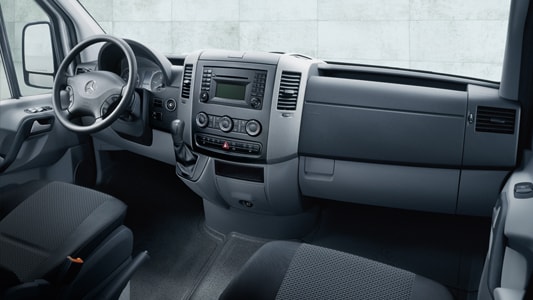 Drive a vehicle engineered to maximize whatever you put in it. From people to fuel gallons, the features of the Passenger Van make it the smart choice for an efficient business.
BlueTEC Engine
One of the cleanest diesel engines in the world, the BlueTEC engine
7
transforms harmful emissions into harmless nitrogen and water - all without sacrificing power, efficient drivetrain, or quiet rides. With innovative BlueTEC SCR diesel technology, the Sprinter complies with the strict emissions limits of the EPA / CARB 2010 standards. Hard-working. Law-abiding. Perfect.
Cost of Operation
Its fuel economy is tremendous and its durability is legendary. With the Passenger Cargo Van, not only are there more miles between fill-ups, but there are more miles between maintenance checks as well
9
.
Ergonomics
Consider the Sprinter Passenger Van your workspace. To enable productivity, it should be designed to fit perfectly. New levels of functionality in high quality components allow you to adjust the van so it operates at your level of comfort.
- Best-in-Class
1
side step-in height and large 6' x 4'3'' entry.
- Best-in-Class
1
interior compartment accessibility
---
Safety
Overview
In a Sprinter Passenger Van, peace of mind rides along with you every mile of the way. Innovative safety features ensure you, and your passengers arrive to your destination safe and sound.
Adaptive ESP
State-of-the-art and dynamic, this stabilizing system includes ABS, Acceleration Skid Control, Load Adaptive Control, electronic brake force distribution, brake assist, Roll Over Mitigation, and understeering control
5
. It allows the Sprinter Passenger Van to adjust to whatever load you're carrying, and makes it the most intelligent commercial vehicle on the road
3
.
Passenger / Driver
Protecting drivers and passengers: the most important job the Sprinter Passenger Van performs - a job that shouldn't be left to just one feature alone. Three-point integral safety belts and head restraints keep you seated securely. Standard driver and front passenger, optional thorax and side-curtain air bags add extra protection
6
. Finally, optional self-leveling, high-intensity Bi-Xenon headlights illuminate the road ahead while an optional, rear view camera aids in reversing and maneuvering. For a work van or truck, it's always good looking out for what's inside as well as outside.
---
Warranty
This isn't your ordinary work vehicle. This is a
Mercedes-Benz
. Innovative technology, safety, quality, comfort, and longevity are standard with and guaranteed for every Sprinter driven off the lot. Backed by the best warranties in the industry, this investment is one you'll never make in vain.
5-YEAR / 100,000-MILE DIESEL ENGINE LIMITED WARRANTY
Coverage for Turbo Diesel engines for 5-years or 100,000 miles whichever comes first. Diesel equipped, heavy-duty vehicles also carry a diesel Emission Warranty.
5-YEAR / 100,000-MILE LIMITED OUTER-BODY WARRANTY
Protection for the outer, finish-painted, metal panels against corrosion and perforation for 5-years or 100,000 miles whichever comes first. All panels are covered for 3-years regardless of mileage.
3-YEAR / 36,000-MILE BASIC LIMITED WARRANTY
Basic coverage for 3-years or 36,000 miles whichever comes first. Excludes normal maintenance and wear items.
---
Service
When servicing your Sprinter,
Mercedes-Benz
of Melbourne knows best. Certified technicians are trained to utilize the most up-to-date knowledge and technology, while Genuine Parts are manufactured to fit your vehicle perfectly. From routine checkups to unexpected repair, your Sprinter is in good hands with an authorized
Mercedes-Benz
Sprinter dealership.